The 5 Types of Light Industrial Jobs to Know About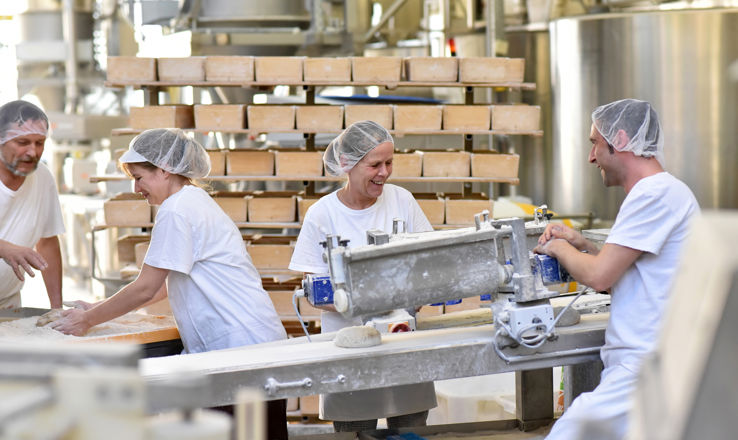 Looking to get into a career that specializes in the production of items we use every day? Getting a job in the light industrial industry may be the way to go. Let's explore the five types of jobs that fall under this category.
Food Production
Your favorite box of cereal, the ribs at the grocery store, the snacks at the gas station – the food production industry is the largest employer in the light industrial sector. Because people need to eat every day, a job in food production is a very secure one. Work nights and weekends as a bakery employee or make it a true daytime job as a meat processor. Since most food production workers learn on the job, no formal training is required to get started. If you're detail-orientated, can work on your feet for long periods of time, can lift heavy boxes, and have adequate math skills to correctly mix ingredients, you can be successful in this industrial job.
Types of Food Production Jobs:
Cannery workers: prepare food products for canning, freezing, and packaging.

Hand food decorators: in charge of making packaged foods look appetizing.

Bakers: use ovens, mixers, and other equipment to produce baked goods.

Quality control technicians: check food products to see if they are up to company standards throughout the manufacturing process.

Truck drivers: ensure food products get delivered to and from the warehouse/factory.

Industrial machinery mechanics: make sure all the machines and equipment are operating properly.
If you've got an eye for fashion, a light industrial job in clothing production is right up your alley. From loading up fabrics in a machine to sewing garments by hand, clothing production workers take the garments from a designer's vision to a finished product. Work in a textile mill and produce raw materials like yarn and thread, or sew in a factory assembly line. While most industrial workers in this industry are extensively trained on the job, positions like pattern makers and markers require a trade school education. Having good hand-eye coordination, basic math and computer skills, as well as working well in a team, are important skills to have if you're considering this kind of industrial job.
Types of Clothing Production Jobs:
Beamers:

responsible for loading yarns onto the reels of weaving machines in textile mills.

Pattern makers: break down a clothing design into separate parts that can be mass-produced in a factory

Blenders: put raw materials like wool and nylon into large mixers or hoppers that turn them into a fabric blend.

Pressers: get garments ironed and ready for packaging.

Packers: package clothing the right way before they are distributed.

Textile Machinery Technicians: keep all clothing production machinery in working order.
Print Production
Workers in this industry are responsible for getting printed items like books, customized t-shirts, maps, and order forms into the hands of consumers who need them. Embossing, binding, mailing, pressing, and even designing these materials are just a few of the job responsibilities that come with this line of work. Most of these duties can be learned on the job. More administrative and design work, however, may require a 2 or 4-year degree. Skills that can get you ahead in this job include strong communication, familiarity with technology, strong attention to detail, and the ability to work under tight deadlines.
Types of Print Production Jobs:
Pre-press technicians: make sure all text and images for a print job are prepped and ready before going to the presses.

Printing machine operators: review materials with the pre-press technician, and then install and adjust printing plates on presses.

Bindery workers: take printed documents and turn them into books, catalogs, magazines, etc. using a binding machine.

Desktop publishers: use computer programs to format font and adjust the layout of a printed design before production.
Life wouldn't be nearly as comfortable if it wasn't for workers in this industry. They're responsible for producing everything from wooden furniture to window blinds, working raw materials like wood, plastic, and even glass. Use your creativity to design a one-of-a-kind office desk or put the finishing touches on a sofa before it goes out to stores. Having great attention to detail, the physical fitness to lift and move materials, and the ability to learn on the job are some of the skills required to be successful in this light industrial job.
Types of Furniture Production Jobs:
Bench carpenters: cut, shape, and assemble wood to make furniture parts.

Furniture finishers: stain, shape, refinish, and seal furniture before it goes out to stores.

Upholsters: use materials like fabric, cotton stuffing, and form padding on furniture products.

Woodworking machine setters: set up, operate, and maintain machines such as routers, sanders, drill presses, and shapers.
Cell phones, laptops, alarm systems – products like these wouldn't be possible without electronics production workers. There are many specialties in this field you can get into such as computers, audio, navigational instruments, and communications equipment. Because the jobs are so specialized, the level of formal training varies. However, you will always need a strong technical background and be able to work in a team if you choose this line of work.
Types of Electronics Production Jobs:
Electrical and electronic equipment assemblers: put together parts needed to produce electronic devices.

Front line supervisor: make sure manufacturing teams do the best jobs they can to keep production running smoothly.

Inspectors and testers: test the electronic products to make sure they're working properly before they go out to stores.
Are you ready to get started in the light industrial industry but worried you don't have experience? Our Personal Job Agents can help! Click here to connect with one near you.