The 7 Fashion Manufacturing Jobs to Know About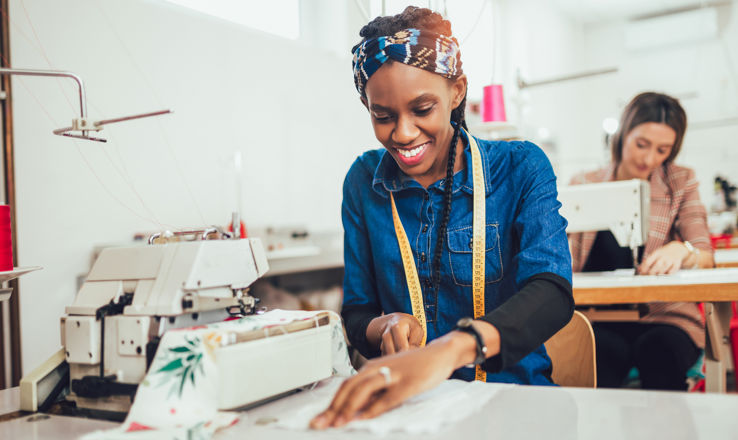 Whether you're looking for another manufacturing job or want to get into the fashion industry, these are the seven jobs to know about.
Patternmaker
Fashion production starts with the pattern maker. They take the design of a garment and create the pattern, or blueprint, for the other production workers to follow. That includes adjusting the pattern for different clothing sizes as well as how much fabric is needed for each size. This fashion blue print lays out the measurements of each piece of the garment in a way that doesn't waste fabric. Before this work used to be done by hand but now patternmakers have computers to help them out.
Skills you need: Strong attention to detail is a must in this line of work. If the pattern is slightly off, it can tank the entire production process. Knowing how to sew and how to draw both by hand and using software programs are also great skills to have as a patternmaker.
Production Manager
These fashion production workers oversee the entire manufacturing process. It's their job to make sure a fashion collection goes from the designers page to retail stores on time and on budget. Working with suppliers, production managers make sure production teams have the textiles they need to keep production on track. They also check that the final garments meet quality standards as well as oversee shipments to the stores they work with.
Skills you need: Because production managers juggle many responsibilities at once, being able to multi-task is a must. Time management and great communication are also good skills to have in this line of work.
Textile Designer
While fashion designers create an entire outfit, textile designers create the patterns on the fabric used in their designs. They create on-trend patterns either by hand or using computer programs like Adobe Illustrator and CAD. While thinking up these designs, these fashion production workers have to take into account the type of textile they're using – including it's weight, flammability, and strength.
Skills you need: The best textile designers have the most in-depth knowledge about fabrics and the textile making process. They have to be creative and have great hand-eye coordination.
Cutters
Once the patternmakers do their job, these workers come in to cut the fabrics according to the garment's blueprint. They take multiple layers of fabric, mark then according to the pattern, and then cut. Cutters may use an electric knife or a very sophisticated cutting machine. Regardless of what they use to the cuts have to be precise because one mistake can cost a production manager a lot of money.
Skills you need: Aside from having basic math and computer skills, cutters need to have excellent hand-eye coordination and extreme attention to detail.
Sewing Machine Operators
These fashion production workers are responsible for putting fashion garments together using sewing machines. That also includes adding in any hooks, buttons, zippers, and other accessories laid out by the pattern maker. They are trained in all aspects of the sewing process because they often rotate to different teams. When the garments are sewn together, they will remove any loose threads or lint as well as check the garment for any defects.
Skills you need: The ability to produce quality work quickly is a great to skill to have, as you may be paid based on how many garments you produce. Great hand-eye coordination and working well with others can help you be successful in this job.
Pressers
Pressers add the finishing touches to garments before they're shipped out of the warehouse. Using traditional irons or pressing machines, they steam wrinkles out of garments, make sure they have the right shape, and get them ready to be shipped. That can be hanging, folding or packing up the items they're working with.
Skills you need: To be successful as a presser, you'll need great hand-eye coordination, the physical health to operate the machine, and a great attention to detail.
Shoe and Leather Workers
Cutting, shaping, and sewing leather pieces to form shoes as well as attaching soles and heels are the responsibilities of shoe and leather workers. Like the other fashion productions workers we talked about earlier, they follow a blueprint set up by a patternmaker. They also dye and polish the finished products before shipping them out.
Skills you need: Working well with your hands, knowing how to cut and sew leather, as well an eye for detail are great skills to have in this line of work.
Our personal job agents can help get you work in the retail production field! Click here to connect with one in your area.