The 4 Types of Jobs in Furniture Production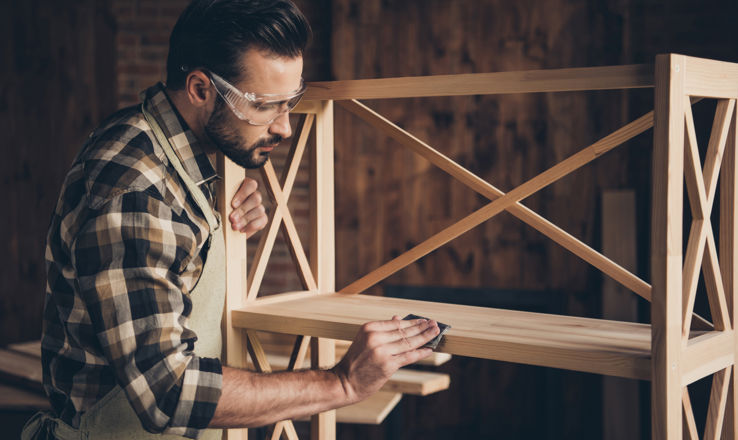 Love putting things together? Have a knack for restoring old furniture? A career in furniture production may be for you. Here are four jobs in this light industrial career you should know about.
Furniture Assembler
As the job title suggest, these workers put together various pieces of furniture and accessories following assembly instructions or blueprints. Binding wood parts using nails or glue, operating boring machines, constructing frames, and checking for defects are a few things furniture assemblers do. Assemblers may work individually or on a team along an assembly line.
How to become a furniture assembler: Once you have a high school diploma, you can get into an entry-level furniture assembly job to gain the experience you need to advance in this field.
Furniture Upholsterer
These furniture production workers are responsible for all the fabric coverings and stuffing on a piece of furniture. That work includes working with foam padding, covering frames with fabric, installing springs, and attaching decorative finishing's like buttons and grommets. Hammers, tack pullers, glue guns, and staplers are just a few of the tools they use. They may work on producing new furniture or updating old pieces, depending on the company they work for.
How to become a furniture upholsterer: The great news is you don't need a formal degree for this type of furniture production job. It is a good idea, however, to enroll in an apprenticeship program so you can learn on the job.
Furniture Designer
The furniture production process starts with the designer. They lend their creative skills and experience to create furniture concepts that are on trend, comfortable, and functional. Furniture designers may sketch their designs or use computer software. These concepts include how to put each piece of the furniture together and what materials will be used. These designers may even put together a prototype of their furniture design.
How to become a furniture designer: You'll need to earn a Bachelor's or Master's degree in Furniture Design where you'll learn everything from the history of furniture to how to use drawing software.
Furniture Finisher
Furniture finishers put the final touches on a piece of furniture before it leaves the warehouse. During their workday, they are striping, sanding, painting, finishing, or lacquer spraying furniture according to shop drawings. They know how to work with finishing materials like turpentine, paints, varnish, and shellac. Furniture finishers are comfortable mixing and blending colors to achieve the final look. As for tools? Furniture finishers use things like sanders, pumice stones, steel wool, sanders, and grinders.
How to become a furniture finisher: Like furniture assemblers, a high school diploma is the minimum requirement to get started. Entry-level jobs sanding and stripping furniture can get you started on the path to making this a life-long career.
Skills You Need in a Career in Furniture Production
No matter what type of furniture production job you get into, there are skills you need to do well. Being detail-oriented, for example, will serve you well as a finisher or a designer. Paying attention to the smallest details make a big difference in the quality of your work. Furniture production workers have good hand-eye coordination in order to operate tools like screwdrivers and sanding machines. Physical health and stamina are needed in this line of work, as there will be a lot of standing, lifting, and doing repetitive motions throughout the work day.
Ready to get started in furniture production? Our Personal Job Agents can connect you with an entry-level job in your area. Click here to get started.