The 6 Retail Jobs That Stores Are Hiring For The Holidays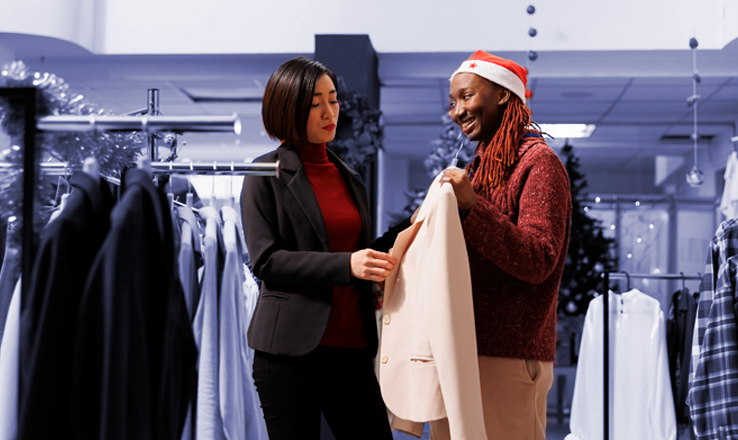 Ready for the holiday hustle?   
As the seasons change, so do the demands of the retail industry. Countless hiring managers are looking for enthusiastic individuals like you to join their teams. Whether you're a seasoned retail pro or looking to dip your toes into the world of customer service, these six jobs offer a chance to gain experience, make some extra cash, and spread the seasonal cheer.   
Extra cashiers are needed to help the flood of customers complete their holiday purchases. These hard-working retail workers are responsible for ringing up purchases, collecting payments, and issuing receipts. They make sure the prices are correct, redeem any coupons or customer rewards and process returns. When the store needs to be tidied up, a customer needs help, or the registers need to be reconciled, the cashiers help with that, too!  
Skills You Need to Get Hired as a Cashier: excellent customer service skills, strong communication, good time management, and attention to detail. 
Seasonal Retail Associate 
Retail associates are another job for which retail stores hire more during the holidays. They work the sales floor, greeting customers and helping them select holiday gifts. Customers look to them to answer their questions about products, prices, and recommendations. When they aren't dealing with customers, retail associates will help stock merchandise, clean up racks and counters, and assist with closing a store down for the night. They may even help cashiers when they get overwhelmed with customers.  
Skills You Need to Get Hired as a Retail Associate: dependability, customer service skills, and ability to multi-task.
The downside of the holiday season is the higher chances of theft, which is why retail managers hire additional loss prevention specialists. Their job is to keep the merchandise safe and sound. They do undercover work on the sales floor, like secret shoppers, looking out for suspicious behavior and checking spots like dressing rooms and stock rooms. Some of them work behind the scenes in a control room, watching security cameras like pros to catch anyone trying to steal. When they spot a shoplifter, they're on it – calling the cops, detaining the suspects, and doing the paperwork.  
Skills You Need to Get Hired as a Loss Prevention Specialist: excellent observation skills, calm demeanor, and communication ability. 
When the holiday shopping is over, shelves and racks must be restocked. Extra overnight stockers are hired to take products from the storage room and out to the sales floor. That may require moving containers with pallets and forklifts, unpacking boxes, and organizing merchandise. They may also keep track of story inventory and place orders when needed.   
Skills You Need to Get Hired as an Overnight Stocker: physical fitness, great attention to detail, can work independently and overnight.
Santa and his elves are the main attractions at any store or retail mall! That's what makes the Holiday Actor job a popular seasonal position. These workers are needed to bring holiday displays and photo booths to life, from helping out with the decorations and interacting with the children who visit them. Managing lines and assisting photographers with setting up backdrops and cameras may also be the responsibility of the holiday actor. While you don't need to be a professional actor to apply, the willingness to embrace your role as an elf or even Santa himself goes a long way!  
Skills You Need to Get Hired as a Holiday Actor: friendly attitude, time management, and great attention to detail.
Extra cart attendants are hired during the holiday season to ensure all customers have the carts and baskets they need for their holiday shopping. They collect carts from the parking lot stalls and make sure they're ready to use again once inside. They also help customers bring their purchases to their cars, answer any questions about the store, and ensure the storefront is clean.  
Skills You Need to Get Hired as a Cart Attendant: physical fitness, attention to detail, and organizational skills.
If you found the perfect retail job this season, we want to help you get hired!
Click here to connect 
with your local branch so they can help you find retail jobs near you!