Do You Have What It Takes to be a Welder?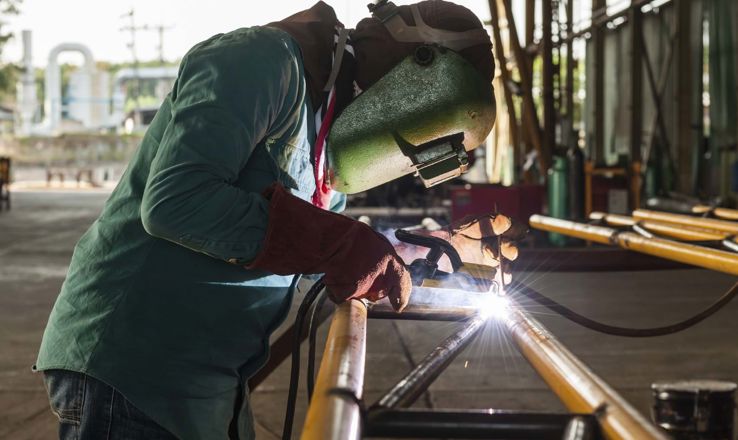 According to the Bureau of Labor Statistics, 397,900 welders were employed in 2014. With their knowledge of melting metals to create and repair everything from cars to pipes, these blue collar workers are in demand. If you're considering a career as a welder, here's what you need to know.
The Skills You Need
Like many other blue collar trades, you don't need a four year degree but rather a certification from a trade or technical school to become a welder. You can enroll in a general program that teaches the basics of the trade or go into a more specialized one if you're interested in entering a specific field like underwater welding. Regardless of what type of welding you decide to do, there are skills you need in order to be successful. Because welding requires precision to melt and cut metals flawlessly, these tradesmen need to have incredible attention to detail as well as good hand-eye coordination. A steady hand and the stamina to do repetitious work for long periods of time are also important skills to have. Welders must be strong enough to lift and handle heavy materials as well as have the knowledge to read and follow blueprints.
Where They Work
Welders can be found in a whole host of industries. They work on building ships in shipyards to repairing them underwater. They perform similar work in the automotive industry and oil industries. In construction, they're called on to join steel beams for buildings and bridges and well joining pipes in power plants. Welders can even find jobs out in space.
Read on to learn more about the industries where welders can find work
A Welder's Work Life
Whether working in a hull of a ship or on a car assembly line, most welders work full time schedules. It's also common for a welder to work 8 to 12 hour shifts and even work overtime. If a project calls for it, they may also work weekends. Safety is also a big part of a welder's life. Because they often work in confined spaces and with very hot and dangerous tools, they must always wear the right protective clothing and gear such as heat resistant gloves and aprons, goggles and or face shields as well as safety shoes.
Job Outlook
The Bureau of Labor Statistics predicts that the employment of welders would grow four percent between now and 2024. This growth is due in part to the need for these tradesmen in various manufacturing industries. Welders are also needed to repair existing roads, bridges and highways.
Ready for your next welding job? Click here for the latest job openings.