4 Industries Where Welders Can Find Work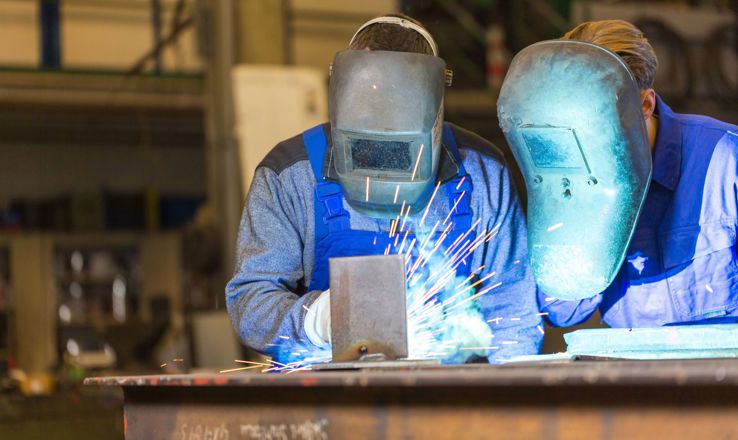 Welding Fact: In 2014, there were 397, 900 employed welders, cutters, solderers and brazers according to the Bureau of Labor Statistics.
With so many of these blue-collar workers in welding, which industries are they working in? While 60 percent of them are in the manufacturing business, here are four industries where they also work that you may not know about.
Boiler Making
When winter rears its ugly head, having a boiler system that works is especially important whether you're working in a factory or having dinner at home. These tanks, vats and pipes heat water and other liquids in order to generate enough electric power to provide heat. In the event that any of these parts break down, a boilermaker with welding skills is needed. Replacing broken valves, joints or pipes may require the use of welding equipment to align, cut and shape them.
Iron Work
Metals and welding go hand in hand, so ironworkers (or erectors as they're sometimes known) utilize this skill. Aside from following blueprints, unpacking steel and iron and signaling crane workers, these day laborers do a great bit of welding. When new structures like buildings or bridges go up, welded wire is essential to strengthening the concrete that holds them up. They also weld iron and steel that can't otherwise be bolted or wired together.
Automotive Industry
What does NASCAR and welding have in common? The durability and the speed of a racing car depend on the welding skills of the mechanics that put them together. According to the American Welding Society, it takes 950 hours to put these cars together before they ever touch the racetrack. For welders looking for an intense work environment (and possesses a crazy attention to detail), this is an industry worth looking into. If NASCAR isn't your thing, they are welders who work in shops that specialize on welding and repairing damaged cars and heavy equipment.
Military
An industry that is in need of welders is the US Military. Working at camps or stationed abroad, they're needed to repair military equipment like tanks, jeeps and hulls of ships as well as fabricating parts in shops or in the field. They are trained just like any other military officer before enrolling in a specialized welding program (the Navy has its own welding school). Because the job is a very risky one, welders in this field can easily earn a six-figure salary.
If you're looking for your next welding job, Labor Finders has you covered! Click here to find open positions near you.