Do You Have What It Takes to be a Carpenter?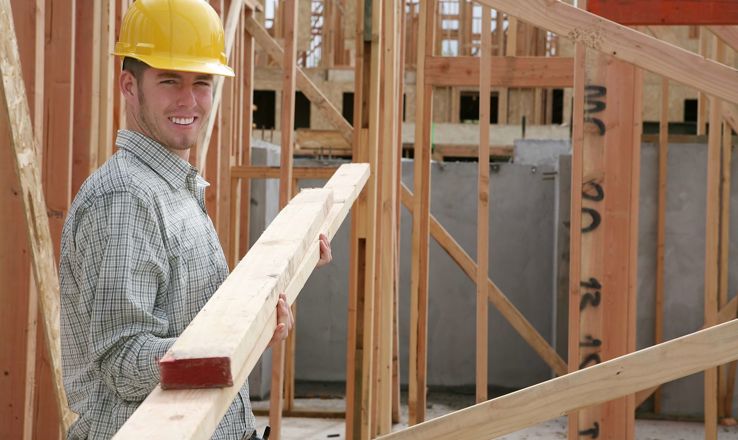 According to the Bureau of Labor Statistics, 945,400 carpenters were employed in 2014. These blue-collar workers account for the majority of laborers in construction. If you're considering a career as a carpenter, here's what you need to know.
The Skills You Need
To get started as a carpenter you'll need a high school diploma (or the equivalent) before entering an apprenticeship program. Apprenticeship programs can last up to 3 to 4 years, but this is where you would get your much needed on-the-job training in carpentry basics. Besides learning how to use tools and wood to construct frameworks for building projects, there are other skills you'll need to be successful in this career. You must be able to read and follow blueprints, pay attention to detail. Problem-solving skills are essential in inspecting and repairing damaged structures and fixtures. You also have to be in great physical condition because the job calls for a lot of standing, climbing and kneeling as well as lifting heavy materials. Strong hand-eye coordination and being able to use a variety of tools like chisels and saws are also great skills to have as a carpenter.
Where They Work
A career in carpentry offers a wide range of opportunities to work in different industries. Those who specialize in residential work, (which account for 20% of all of those employed in 2014 according to the Bureau of Labor Statistics) can be found working on anything from new single-family homes to remodeling condominiums. Framing walls, building stairs, hanging cabinets and installing windows and doors are just some of the projects residential carpenters take on. You can also perform the same type of work in office buildings, schools, hospitals and malls as a commercial carpenter. These skilled tradesmen can also be found in industrial settings taking on civil engineering projects such as tunnels, power plants and bridges.
A Carpenter's Work Life
No matter what project they're working on, most carpenters work full time as well as put in overtime hours in order to meet project deadlines. Work sites can vary, from very cramped tunnels to the sunny outdoors. While some carpenters work for a company, according to the Bureau of Labor Statistics, 1 in 3 were self-employed in 2014. That means it's possible to work for yourself and set your own work schedule, especially if you work in the residential sector.
Job Outlook
As for getting work as a carpenter, the job outlook for this field looks very good. Between the growth of new-home construction and the repair of roads, bridges and other existing infrastructure, the need for these tradesmen will continue to grow. The Bureau of Labor Statistics reports that by 2024, employment will grow by 6 percent, confirming that now is a great time to become to a carpenter.
Ready for your next carpentry job? Click here for the latest job openings.