5 Hospitality Jobs to Know About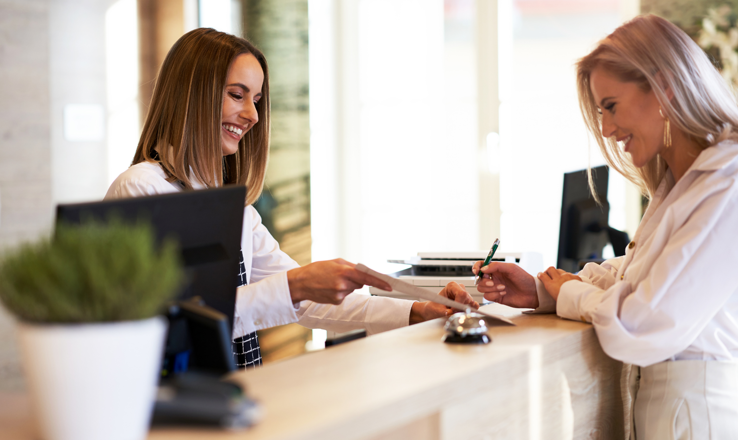 Want to jump-start your career in hospitality but don't know where to start or how to get your foot in the door? Here are 5 cool jobs in that industry you can get into with little to no experience.
Hotel Receptionist
In this hospitality career, you'll be the first person guests will interact with when they arrive at the hotel. That's why it's important for hotel receptionists to have excellent customer service skills so their customers have a great first impression of their establishment. They handle tasks such as greeting guests, getting them checked in, answering questions, and other front desk administrative tasks. They are also responsible for making sure every customer has a great and comfortable stay. Hotel receptionists are also very knowledgeable about the hotel property, can work with little to no supervision, and have a great attitude.
After a hotel guest checks in, the concierge staff is often the next type of hospitality worker they'll interact with. They also greet guests as they walk into a hotel or restaurant, show them to their tables or rooms, handle personal requests, take reservations, book tours, and dole out directions. Because their tasks are so varied, they can go by a number of different job titles such as hotel clerks, reservation agents, guest relations workers, and guest relations associates. Concierge workers have excellent communication skills, a friendly personality is organized, and know how to solve problems on the fly.
Housekeeping Staff
Housekeeping staff are the behind-the-scenes workers that keep your place looking its best. Hotel rooms, linens, lobbies, dining areas, kitchens, outdoor spaces, and any other part of your venue that customers encounter fall under the duties of this hospitality job. Job positions that fall under this type of hospitality career are janitors, bussers, housekeepers, maintenance workers, and janitors. Basic cleaning skills, physical stamina, can work well with others, and a knack for doing minor repair work are some of the skills you'll need to be successful.
Wait Staff
From five-star restaurants to hotel bars, food service would come to a grinding halt without wait staff. From food and beverage prep to clearing tables, they are key to delivering stellar customer service in a food establishment. Bartenders, waiters, banquet servers, food runners, baristas, and even event staff all fall under this hospitality career, giving you plenty of options to choose from. Key skills you'll need to be successful in these jobs? The ability to work quickly, excellent customer service skills, a great memory, and can multitask.
Porter
Porters and other similar hospitality jobs are also vital to ensuring guests at a hotel or a restaurant get the best customer service. Though these workers are known to handle luggage and park cars, their job goes way beyond that. They may tag a guest's luggage, arrange taxi rides for guests, clean and maintain the entrance to a hotel or restaurant, as well as perform minor maintenance work as needed. Job titles that fall under this hospitality career include bellhop, valet, driver, and baggage porter. To be successful as any one of these hospitality workers, you'll need to be in great physical health, have strong attention to detail, and have an outgoing personality.

Take the next step in your hospitality career by getting the job experience you need. Get to work with us today!