How to Stay Safe as a Hotel Housekeeper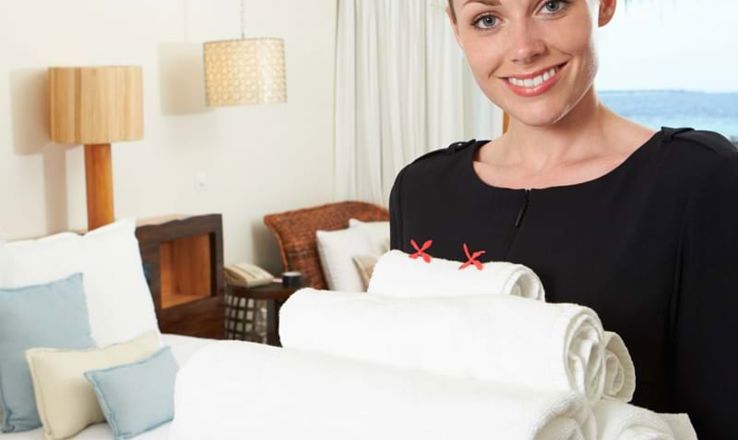 According to the Bureau of Labor Statistics, the rate of nonfatal injuries and illnesses for hotel workers was 5.4% in 2013, a rate much higher than that of all industries (which was 3.5%). In a recent survey of over 600 housekeepers taken by UniteHere!, a organization for hospitality workers, 91% of them have suffered work-related pain. So why are these workers getting hurt at these alarming rates? Heavier mattresses, luxury bedding and daily quotas of servicing 15+ rooms are just a few of the things that make a housekeeper's job a lot more labor intensive than what it used to be. If you're a housekeeper, here are three things you shouldn't do so you can stay safe.
Bend or Over Reach
To avoid common injuries like lower back pain and sore shoulders don't bend or over-reach while cleaning. When making the bed, kneel or squat close to the mattress. If you do have to bend down to pick up fallen towels or trash, use your knees and not your back. In the bathrooms, stand in the tub to clean it as opposed to bending over. You also shouldn't bend your back while vacuuming. Instead, maintain good posture with your elbows at your side and walk with the vacuum cleaner. For hard to clean places, use tools with long handles so you're not stretching your arms out too far out for long periods of time.
Overexert Yourself
Pushing carts, lifting heavy cleaning products and handling loads of laundry are common duties of a housekeeper that can cause injuries if you overdo it. On your cart, store heavy items on shelves that are between your hips and chest so they're easier to handle. Speaking of carts, use those with spring-loaded bottoms that pop up when unloaded so you don't have to do a lot of repetitive bending. For laundry, do smaller loads to avoid the heavy pulling that comes with taking out and untangling wet towels and sheets. Another way you to avoid overexerting yourself? Use the most efficient tools and products, such as cleansers that remove dirt with one swipe so surfaces get cleaner faster (without the heavy scrubbing).
Leave Yourself Open to Harassment
An unfortunate safety hazard of being a housekeeper is harassment and assault. One way you can keep yourself safe is to not work alone. Make sure you're working with someone else whether in the same room or on the same floor. Lock the door or use the cart as a door barrier to the empty guestroom you're cleaning so strangers don't walk in. Whistles or portable panic alarms should also be worn if the hotel provides them.
At Labor Finders we take our associate's safety on the job very seriously. Visit us to learn more and find your next job opportunity as a housekeeper.