Working with Chemicals on the Job: What You Need to Know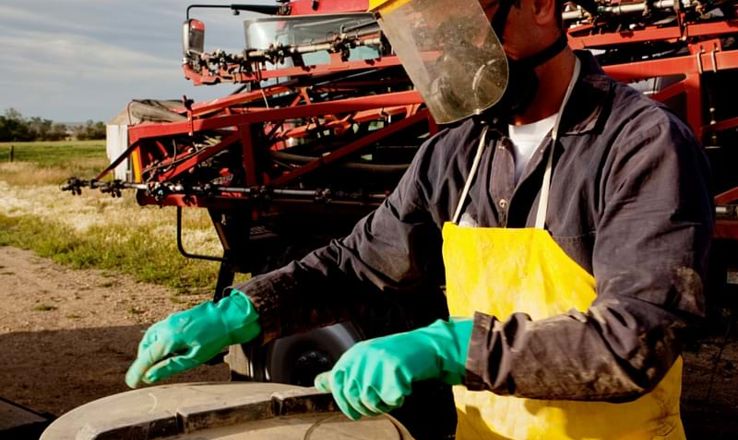 Aside from physical injuries on the job, day laborers must also keep themselves safe from chemicals. According to OSHA, tens of thousands of chemicals are used on the job every day. This government agency also reports that workers suffer more than 190,000 illnesses due to chemical exposure. From pesticides to gasoline, here's what you need to know when dealing with these substances on a work site.
What are the Hazards of Chemicals?
Harmful chemicals can enter the body by inhalation, absorbed through the skin or even ingested and, as a result, cause a variety of sicknesses. Inhaling gases and fumes from common cleaning products over a period of time can cause coughing and chest tightening. When formaldehyde gets on skin it can cause severe allergic reactions. While we know that drinking chemicals is a very bad idea, ingestion occurs when an employee doesn't wash their hands before eating or utensils are kept too close to a work site. When chemicals enter the body this way, they can burn the digestive system or even cause death.
What Can You Do to Prevent It
Knowing the signs of overexposure is a great start, however there are other precautions you should take when working with chemicals, such as:
Wearing Protective Clothing and Equipment:
Wearing clothing such as aprons, gloves, and boots prevents toxic substances from being absorbed into the skin. They should be made of material that can stand up to the chemicals being handled and provide the right coverage for the job. Use goggles and face shields to protect against splashes and fumes and use respirators. They should be properly fitted and maintained so workers aren't inhaling dangerous fumes while working.
Ventilating the Work Area
Just like working in confined spaces, make sure your work area is properly ventilated to avoid heavy concentrations of fumes. That includes taking work outside if possible or using exhaust and ventilating systems on a work site. It's also a good idea to check the air before you start working to make sure it's safe.
Properly Storing and Disposing of Chemical Waste
At the end of the workday toxic substances should be stored in proper and clearly labeled containers. These containers should be sealed tightly to avoid accidental leakage and put in designated storage areas. Also make sure that chemical waste is disposed of according to your employer's safety rules and procedures.
Cleaning Up
Wipe down contaminated work surfaces and clean up chemical spills safely to keep the work area as safe as possible. You should also be diligent about washing your hands before eating as well as cleaning your clothes and PPE after you're done working for the day.
Are you ready to find your next job opportunity? Click here now to find a Labor Finders office near you!