What Does a Retail Manager Do?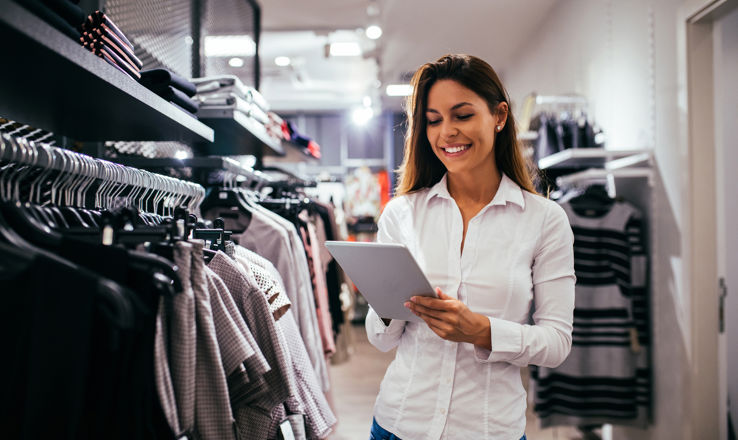 After clocking in considerable time as a store clerk the natural next step up in this career is working as a retail manager. Instead of being the worker reporting to someone you are the one others look up to. But what exactly does a retail manager do? What skills do you need to get the job?
What a Retail Manager Does
Supervise employees, hand out schedules, open up the store – there are many responsibilities a retail manager may have. They can be broken down into the following categories:
Human Resources
Retail managers oversee employees in a few different ways. They take care of finding, hiring, and then training new associates. After that, they make sure everyone on staff adheres to store policies, work well with each other, and provide the best service to customers. Retail managers handle employee schedules, creating them in a way that anticipates store needs and personnel availability. If the store is short on staff, retail managers pitch in when necessary.
Store Maintenance
The general upkeep of the store is another responsibility of the retail manager. Making sure the store is clean, shelves are neat, and equipment is running properly is part of the job description. They may have to change up product displays or put up new store signage. Whether they assign store clerks to take care of these tasks or do it themselves, they make sure the store is always presentable and ready for customers.
Inventory and Pricing
If there isn't anything for the shoppers to buy, a store can't be profitable. Retail managers make sure store shelves and stock rooms have the products their customers are looking for. That includes keeping up with inventory and working with suppliers to get shipments of new products into the store. These retail workers also make sure that product prices are accurate and updated.
Keeping up with Store Financials
Retail stores, like any other business, need to have their finances in order so they can pay their bills and their employees. A retail manager may be tasked with keeping with the financial books – budgets, expenses, operating costs, etc.
The Skills You Need as a Retail Manager
Now you know what a retail manager does, what skills do you need to do the job right?
Leadership
This may go without saying but working as a retail manager puts you in a position of leadership. Running a team and the store they work in requires knowing how to supervise others, motivate your staff, and make tough decisions.
Decision-Making
Speaking of decisions, a retail manager has to make a lot of them. Who to schedule on what days, when to order more products, how to create sales displays, and which person to hire are just a few decisions you have to make in this career. Knowing how to evaluate your options to make those hard and fast decisions is a crucial skill to have.
Sales
No matter what level of the retail career ladder you're on, being able to sell is the heart of the job. If a store can't make sales, it can't stay in business. Being able to not only close sales yourself but also teach your staff how to do so effectively is part of the retail manager job description.
Effective Communication
Every part of working as a retail manager requires being able to communicate clearly and effectively with customers, employees, and vendors. Not only do you have to be able to give direction, guidance, and tasks effectively, you also have to listen to the people you work with so you can make the best decisions.
Want to be a retail manager but need more experience? One of our personal job agents can help! Click here to get matched with one.