Journeyman Electrician: The Skilled Labor Job To Know About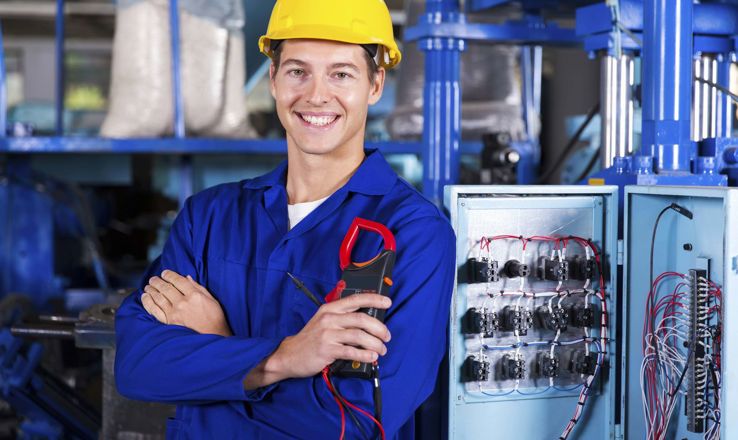 A journeyman electrician – a worker who is licensed to do electrical work – can be a very rewarding skilled labor job. Here's what you to need to know about becoming one.
How to Become a Journeyman Electrician
In order to become a journeyman electrician you must first enroll in an apprenticeship program. These programs can take between two to four years to complete. During that time you'll be working alongside the experienced electricians you ultimately want to be. As an apprentice, you'll learn how to do certain tasks like installing circuit breakers, running wire through walls and how to stay safe while working on a construction site. Once you complete the program, there is a state exam you'll have to take. While these tests vary depending on where you live, you are generally tested on your knowledge of laws and regulations related to electrical work. You are also tested on the tasks a journeyman electrician would do on a skilled labor job. Once you pass the test, you will be a licensed journeyman electrician.
The Skills You Need
Successful people in this skilled labor job have certain skills that go beyond running wire through walls. They have to be able to problem solve, as they are often called in to diagnose electrical issues as well as find and make the necessary repairs. Critical thinking is another important skill to have as this type of skilled laborer for tasks such as running electrical tests. Journeyman electricians need to have the physical strength and stamina to move heavy components like light fixtures as well as do repetitive tasks all day long. When it comes to soft skills, these skilled laborers need to be friendly with customers and be able to answer any questions they may have. Those who decide to work for themselves need to have the business skills to handle payroll, manage work assignments and bid on new projects.
A Journeyman Electrician's Work Life
Journeyman electrician works varies on the type of assignment they take on. They can be found working out in the elements on a construction site, inside a noisy factory, or in an air-conditioned residence. Regardless of their work environment, these skilled laborers almost always work full time schedules that may include nights and weekends. If they are called to do work like scheduled maintenance, they may have to work overtime.
Job Outlook
The rise in construction projects and greener power alternatives are driving the increasing need for journeyman electricians. Many employers are actually reporting difficulty in finding qualified people for this skilled labor job. According to the Bureau of Labor Statistics, the number of employed electricians will grow by 14% by 2024.
Are you a journeyman electrician looking for their next gig? Click here now to get all the information you need to get back to work.