5 Great Career Options for Electricians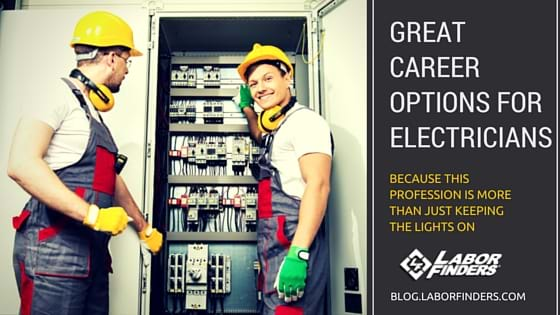 Whether you've been an electrician for a long time and are looking for a change or someone thinking about entering the field, there are many career options in this profession. Here are five of them to know about now.
Line Repairmen & Installers
The men and women you see working on truck mounted buckets on overhead lines are line repairmen and installers. In this line of work, you'll apply your electrician skills to electrical and telecommunication systems. Inspecting, testing and repairing lines, operating power equipment and setting up service for customers are just a few of the job responsibilities. Electrical power-line workers maintain the overhead lines that deliver power from the plants to customers, often dealing with voltage regulators, transformers, and even traffic lights. If you go the telecommunications route, you'll be installing, repairing and even splicing fiber optic cables that transmit phone, cable and internet signals either overhead or underground.
Maintenance Electrician
If you prefer working inside, this career path may be for you. From repairing faulty parts to doing routine inspections, maintenance electricians play an integral part in making sure the equipment and systems in industrial plants run smoothly. They will be called on to repair and diagnose any mechanical problems. The skills you learned as an electrician will be very useful in fixing electrical wiring as well as installing new equipment according to blueprints and local code. Because this position requires extra technical skills, an associate's degree in electronics is often needed to become a maintenance electrician.
Electrical Estimator
The career ladder for an electrician doesn't end when you reach the Master's level – becoming an electrical estimator is a senior level career option. These workers consult with contractors and other senior construction staff before and during a construction project. They help generate cost estimates, analyze quotes and examine blueprints to make sure that anything related to electrical systems are in order. Aside from electrical experience, you'll need a bachelor's degree as well as any state-required certifications to become an estimator.
Electrical Drafter
While general electricians may work off of blueprints, electrical drafters are the ones who actually draw those blueprints. Electrical drafters take the measurements and sketches from other workers like engineers and architects and create the technical drawings for an electrical system that needs to be built for a project. Once these blueprints are done they may be called back to give their input on improvements or create manuals that maintenance workers can use. If this line of work interests you, there are certificate and associate degree programs you can take that can help get your foot in the door.
Electrical Supervisor
As an electrical supervisor, you would be the person in charge of a team of electricians on a job site. Aside from doing actual electrical work such as assisting workers with installations and repairs, electrical supervisors are also responsible for setting schedules, assigning work, training employees and making sure the project stays on track. Those who go into this career either have an associate's or technical degree as well as experience with different types of electrical tools, equipment and safety procedures.
Ready for your next electrician job? Click here for the latest job openings.