How to Become a Food Stylist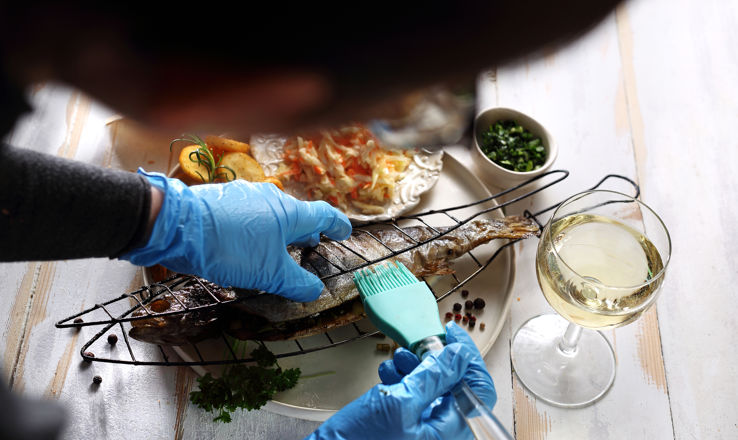 Food stylists are called on to make dishes look delicious in photos and videos. Their work is used in cookbooks, menus, and food magazines as well as TV commercials and cooking videos. You can break down this job into two (but equally important) tasks:
Cooking the Dish
Before a food stylist can get a dish ready for the cameras, they may have to cook it first. Following the chef's recipe, food stylists go out, get the ingredients, and then get in the kitchen to create the food they're going to shoot. They need to focus on making the dish taste as good as it looks, using quality ingredients and impeccable plating.
Styling the Food
Once the dish is done, it's time to style it for photos and video. A food stylist has to decide what type of props and accessories should be used, such as plates, utensils, table cloths, and backdrops. If you're working in a demonstration kitchen, you'll have to make sure it's clean and staged properly before filming starts. Then, they work with chefs, editors, photographers, and video crew to get the images and videos those clients are looking for. They may even have to take the photos themselves, touching up the dishes as they go along.
How to Become a Food Stylist
There's no formal degree or certification needed to become a food stylist. They get their start by working under more experienced stylists, learning all the tips and tricks of the trade. There are, however, skills and experience you should have under your belt before taking the leap into food styling like:
Experience in the kitchen
Because the job involves cooking the food before styling it, you have to be able to cook well and understand how ingredients work with each other. Knowing how to plate beautiful food is a must as well.
Attention to Detail
Editors and chefs expect nothing less than perfection from your work so as a food stylist you need to be able to pay attention to every single detail in your work. This skill needs to be applied from the props you choose to the ingredients used in preparing the meal. Every little thing counts in this line of work.
Creativity
Translating the vision a magazine editor has into a stylized image takes a lot of creativity. Being able to think out of the box, come up with multiple ideas on the spot, and figure out ways to execute them is a great skill to have as a food stylist.
Let one of our Personal Job Agents help you on the path to a career as a food stylist. Click here to get started now.