Get a Career as a Ship Carpenter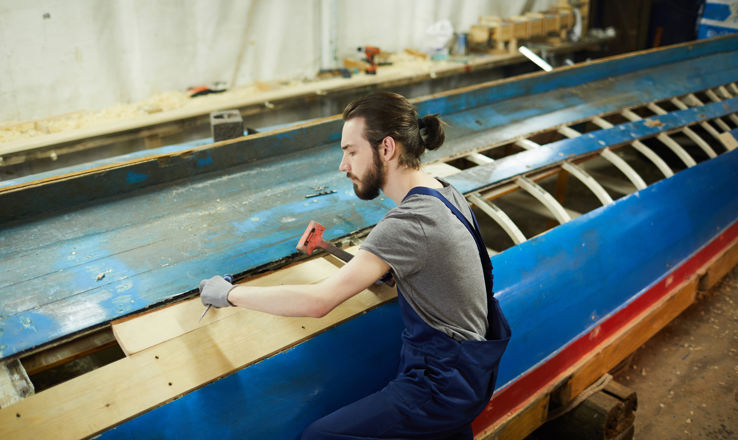 Looking for a job where you can work with your hands and be near water? A career as a ship carpenter may be right up your alley. Here's what you need to know about this specialized career.
What a Ship Carpenter Does
As the name suggests, these carpenters are specialists in doing woodwork and maintenance on water vessels. Like carpenters in other fields, they know how to read blueprints, cut and assemble parts, as well as how to troubleshoot installation problems. What sets them apart is the fact that they deal with materials other than wood (think metal, fiberglass, and aluminum) and projects special to boats such as:
Decks and Flooring: One of the most important parts of a ship, ship carpenters install and repair ship decks that can withstand a watery environment and frequent sailing. Decks and floors also have to look polished and perfect, adding the luxurious feel boat owners look for in purchasing vessels.
Custom-made Cabinets: Storage spaces and surfaces on ships are almost always custom made so ship carpenters are needed. They will either put them together on-site or install pre-fabricated cabinets.
Ship Ladders and Handrails: Like staircases in a home, ship carpenters are needed to make ladders and accompanying handrails so people can move safely between decks on a ship.
Countertops: This type of carpenter specializes in cutting, installing, and finishing countertops into tight spaces using materials like wood and stone.
Learn about these other great careers in carpentry.
Where Ship Carpenters Can Find Work
One type of business that hires these workers is yacht-building companies. Ship carpenters (also known as marine carpenters) may work on just one aspect of the boat building process, like installing cabinets. Others may be called in to fix any leaks or troubleshoot any other problems before a ship is ready to be sold. Ship carpenters can find work on cruise ships; keeping the floating hotel in good shape as it makes its rounds in the Caribbean. A third place that hires ship carpenters is ship marinas that specialize in the maintenance, repair, and refit of the boats docked at their piers.
How to Become a Ship Carpenter
To get into this specialized field, you have to start with the learning basics of carpentry. That training comes from successfully completing a 3 to 4-year apprentice program. Under the supervision of experienced carpenters, you'll learn how to do things such as read blueprints, use carpentry tools, cut and measure wood, and how to install trim. You'll also develop great attention to detail, troubleshooting skills, and strong hand-eye coordination. Once you've got all of these technical and soft skills under your belt, you can start going after those ship carpenter jobs.
Need help finding your first ship carpenter job? Our Personal Job Agents are here to help! Just click here to connect with one.