Do You Have What it Takes to be a Flagger?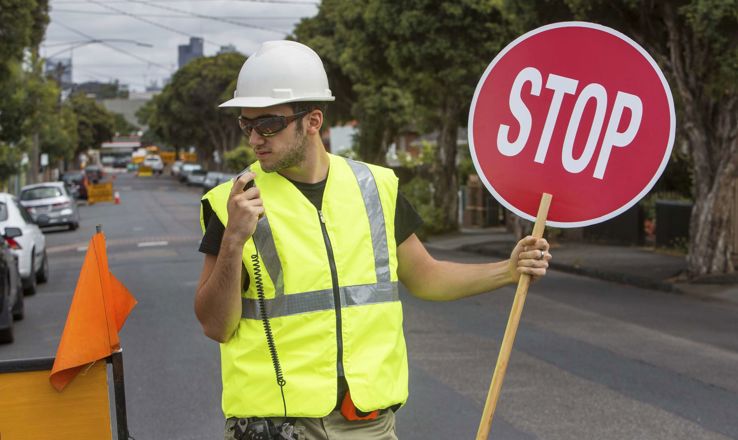 Repaving a road or building a new highway bridge can put a damper on your daily commute. That's why we need flaggers on a construction team to set up work zones and make sure drivers can navigate around these sites quickly and safely. Are you considering a job as a flagger? Here's what you need to know.
The Skills You Need
One of the biggest skills you need as a flagger is communication skills. In this line of work, the difference between a great day on a construction site and a disastrous one is how well you talk to - not only other flaggers and construction workers - but the drivers you're directing. You must be in constant contact with your fellow flaggers, making sure you're all on the same page when it comes to doing tasks such as closing lanes and directing alternating one-way flow of traffic. Flaggers are able to understand directions both from coworkers and site supervisors. As for communicating with passing traffic, flaggers need to know how to use of all their signaling devices – flags, signs, and paddles – so drivers understand how to get around a construction site safely. Another skill flaggers should have in order to be successful is great physical health. The job requires being on your feet for long periods of time as well as doing additional tasks such as moving around traffic cones and clearing debris. Flaggers must also be very alert and be able to anticipate safety hazards so they can work quickly to prevent them.
How to Become a Flagger
While you don't need a formal degree to become a flagger, most states require that you do get certified. Some companies will offer certification and training to their new employees. It's also possible to get certified through places like local community colleges and special agencies with approved instructors like the American Traffic Safety Services Administration (also known as the ATSSA). Some of the things you will learn in these programs include the use of road signs, safety regulations, hand signals, and flagging techniques. Once the courses are completed there's usually a test you have to take and pass in order to receive a certification card. Be sure to check your local state's requirements for flagger certification.
Where They Work
Flaggers commonly work on road construction sites that range from highways to bridges to make sure traffic keeps flowing. They can work as contractors for private companies or for government agencies like the Department of Transportation. Flaggers can also find work through staffing agencies that specialize in fulfilling the labor needs of construction companies.
A Flagger's Work Life
Flagging can be a very fast-paced job, as roadwork is often done on a tight schedule. You can expect to work all types of shifts, including overnight and the hours can be long. Flaggers don't work alone but rather in teams, communicating with each other on hand-held radios. Like many construction jobs, a flagger has to be alert and focused at all times because the job can be dangerous. It's also important for these workers to keep their safety gear on at all times. Click here for the behind-the-scenes video of flaggers who love what they do.
Job Outlook
Flaggers, along with other construction laborers and helpers have a great job outlook. This is in part to the continuing surge in construction projects overall, increasing the need for flaggers. According to the Bureau of Labor Statistics the jobs in this sector will grow 21% by 2020.
Ready for your next flagging job? Click here for the latest job openings.