6 Types of Day Labor Jobs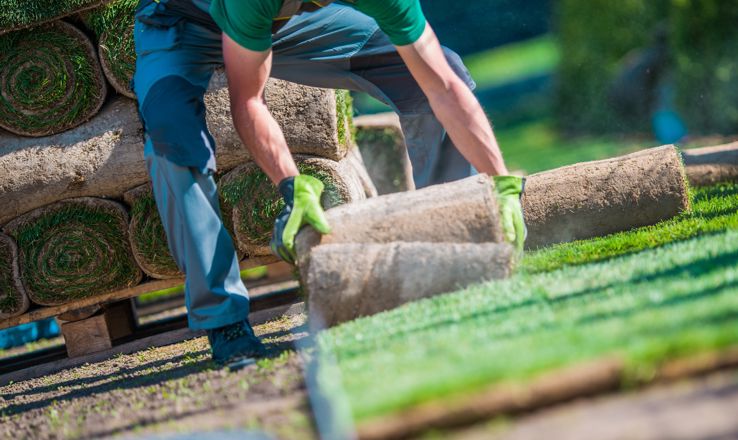 When you hear the word day labor, what comes to mind? Hauling around bricks on a construction site? A ton of work for no pay?
Contrary to popular belief, day labor jobs can lead to a rewarding (and high-paying!) career!
What is Day Labor?
Before we jump into the different types of day labor jobs, let's first define what day labor is. Day labor is work that's done and paid for by the workers who perform them by the day. Factories, plants, and construction sights rely on day laborers to help with their projects or production schedules are unexpectedly thrown off track and they need extra workers. They often turn to staffing agencies who specialize in day labor because they always have a pool of workers ready to work at a moment's notice. In return, workers can get paid for the same day they work as well as get experience in a variety of different jobs.
So, what types of jobs can you get that are classified as day labor?
Groundskeeper
Whether a regular landscaping employee is out sick, or a landscaping project requires a lot more workers than the company has on staff, you can snag a temporary job as a groundskeeper. In this day labor job you definitely get your hands dirty while learning the ins and out of working on a landscaping project. By working with more experienced landscapers, you'll learn how to use tools like mowers and trimmers as well as how to handle chemicals like pesticides safely. Some of your job responsibilities may include:
Mulching, laying sod, removing dirt, trimming, mowing, and raking lawns.
Cutting and trimming trees and shrubs.
Watering, feeding, digging, planting flowers, plants, and trees.
Growing and caring for plants, applying fertilizer and/or pesticides.
Skills you need to be an awesome groundskeeper: Physical strength, hand-eye coordination, endurance, depth perception, and the ability to concentrate on job responsibilities.
Picker/Packer
With online orders continuing to skyrocket, the need for pickers and packers is in very high demand. In this warehouse job, you'll be transforming an online shopping cart into physical packages that are shipped out to customers. They print out order tickets and find those order items in the warehouse so they can be scanned and shipped out. and scan their barcodes for inventory purposes. Then it's time to pack them up, making sure they're wrapped up and put in labeled boxes in a way that keeps them intact during shipping. Specifically, pickers and packers are responsible for:
Locating and pulling products for shipping
Packing products according to daily customer orders
Keeps up with product inventory by scanning the products they pull and pack
Make sure warehouse products are organized on shelves.
Skills you need to be an awesome picker/packer: Basic math skills, great attention to detail, and the ability to handle big items and be on your feet all day.
Clean-up Crews
From hotels to construction job sites, clean-up crews are always needed on a per-project basis making this another common day labor job. These crews are put together, often with the help of a local temp agency, to perform all the tasks needed to clean up a job site according to the company standards. These tasks can include:
Blowing off sidewalks, sweeping walkways/hallways, and removing any trash.
Cleaning, sanitizing, and organizing areas like restrooms, offices, closets, corridors, guest areas, and stairwells.
Vacuuming, sweeping, and mopping floors and carpets within designated areas.
Dusting, polishing and cleaning all furniture and accessories.
Skills you need to be an awesome clean-up crewmember: Ability to stand, squat, sit, and walk interchangeably for long periods of time, excellent organizational and time management skills, and the ability to follow instructions, demonstrate initiative and work independently.
Stock Clerk
Just like pickers and packers are important to warehouse operations, so are stock clerks! These day laborers make sure warehouse shelves stay stocked with company products as well as make sure they're labeled. You'll also find them unloading incoming shipments as well as making sure all storage areas are clean and orderly. In this day labor job you expect to:
Accept delivered packages and ensure the proper amount is inside.
Mark items with identifying codes, such as price, stock, or inventory control codes.
Stock shelves with unpacked items.
Replace damaged or missing products.
Skills you need to be an awesome stock clerk: Strong work ethic, being physically fit, and Excellent time management skills.
Event Staffer
Event staffers are the workers behind the scenes at your favorite venues and banquet halls, handling everything from set-up to security. Because these events tend to be seasonal, it makes sense for event companies to rely on day laborers for these limited projects. Workers who love to work with people and like a fun work environment thrive in this type of day labor job. Some of the duties of an event staffer include:
Greeting and welcoming guests upon arrival and thanking guests when departing.
Working/operating concession stands, serving as ushers, ticket-takers, or security personnel.
Cleaning or setting work areas, tables, or counters and replenishing and service stations, cabinets, and tables.
Reviewing event orders and receiving instructions to prepare event spaces, including seating, buffets, beverage stations, tables, or setting up lighting, sound, and scenery equipment according to event plans.
Skills you need to be an awesome event staffer: Strong communication skills, a positive attitude, good physical stamina, and the ability to work quickly.
General Laborer
This was probably the first type of job you thought of when you hear the words day labor and you're not wrong! Construction jobs rely on day laborers to handle a variety of jobs and responsibilities on a project site, especially if the project is running behind schedule. General day laborers may be tasked with:
Manually moving freight, stock, or other materials.
Cleaning and preparing a job site as well as loading and delivering materials.
Setting up and taking down ladders, scaffolding, and other temporary structures.
Helping carpenters, masons, and other specialized contractors.
Controlling traffic at road construction sites, setting up markers, cones, and barricades as well as flagging vehicles to control traffic flow.
Skills you need to be an awesome general laborer: physical strength, hand-eye coordination, endurance, depth perception, and the ability to concentrate on job responsibilities.
Did any of these day labor jobs catch your attention? Want to learn more, or even better, try out any of these industries? Click here to connect with your Personal Job Agent.