What to Do During an Interview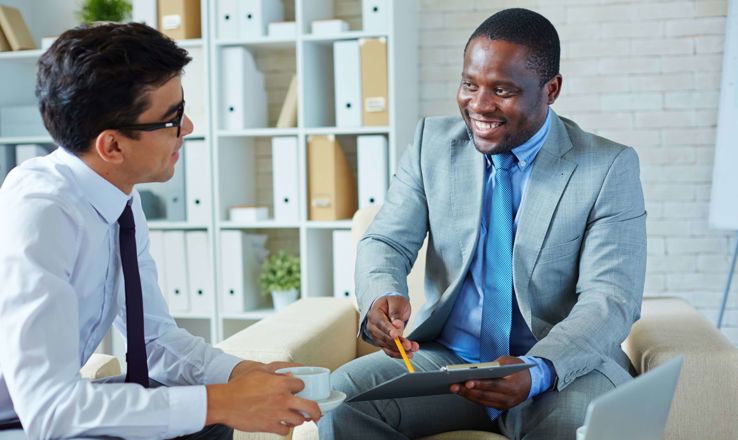 Congratulations! You' were called in for an interview, which brings you one step closer to landing that job. Here are five things you can do to help you ace it.
Nail the Question: Why Should We Hire You?
While we can't always predict what questions will be asked during an interview, one you should always be prepared to answer is: "Why should we hire you?" The best way to answer that is to talk about work history and experience that directly relates to the job you're applying for. It's also a good idea to mention any soft skills you have that would be an asset to the company. By nailing this question, you not only show that you are clear on what is required of you if you're hired, but confident that you're the right fit for the job.
Watch Your Body Language
An interviewer isn't only paying attention to what you say but how you say it through you body language. Make a great impression by dressing appropriately and give a firm handshake. During the interview, make sure you sit up straight, maintain eye contact with your interviewer and speak clearly. What you don't want to do? Slouch or lean back in the chair, cross your arms or blankly stare at the interviewer, which can come across as lazy and rude.
Have a Great Attitude
Aside from having good body language, demonstrating a great attitude is also important to do during an interview. Employers are looking for people who can contribute both professionally and personally to their work environment. Laborers with a positive disposition can better handle the challenges of the job and are able to work well with others. So make sure you demonstrate this important soft skill during your interview.
Actively Listen
Knowing what to say during an interview is important but it's also crucial that you really listen to what is being said and asked by the person interviewing you. He or she may give you important information about the job that may not be listed in the initial description but also about the company. By listening actively you'll also be able to fully understand each question by taking the time to listen so you can give the interviewer the information they're looking for instead of rambling.
Ask Questions
Interviews aren't just an opportunity for an employer to learn more about you. It's also a chance for you to find out if this is a place you want to work. To take advantage of this time, ask questions during your interview. You can ask about the company as a whole, what skills they are really looking for in a worker or what to expect as a new employee. While it certainly helps to prepare a few questions ahead of time, don't be afraid to ask about anything that is or isn't mentioned during an interview.
Are you ready to work with Labor Finders? Click here to find an office near you!