What is a Glazier? (And How to Become One)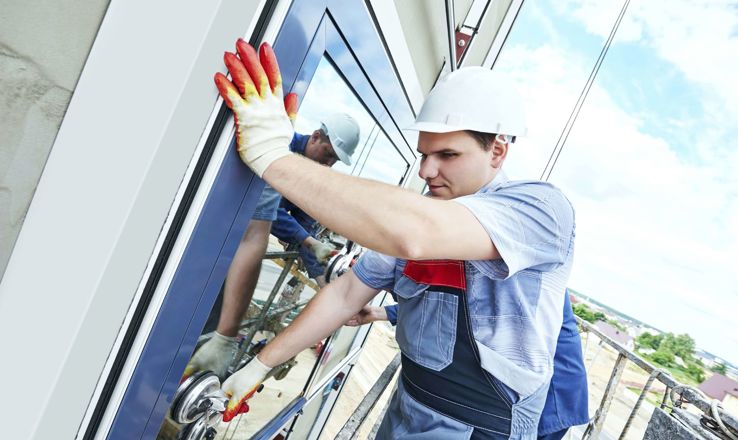 When you look out your bedroom window or lean on a display case, you're looking at the work of a glazier. So what exactly do they do and how can you break into this industry?
What is a Glazier?
From a conference room window to shower doors, glaziers are responsible for all things glass on a work site. They cut, install, repair and remove glass fixtures for home projects such as windows, shower doors, skylights and decorative room dividers. For commercial properties, they work on storefront windows, display cases and security glass. On construction sites, they take precut glass and make sure they're positioned and secured into place via frames, fasteners or aluminum sashes.
The Skills You Need
Glaziers are responsible for making sure the glass used is properly installed and maintained. In order to do that, these workers need to have a great sense of balance since this work often has them up on ladders and scaffolds during installation and repairs. Hand-eye coordination is essential in making sure glass is cut precisely and fastened properly. Having the physical strength and stamina to haul and hold heavy pieces of glass all day is another important skill to have as glazier. Aside from the physicality that comes with the job, glaziers must also be able to read and follow blueprints.
How to Become a Glazier
Like many other blue collar careers, formal training as a glazier happens in a apprenticeship program that takes about four years to complete. During the 144 hours of technical education and 2,000 hours of paid on-the-job training that is completed every year of that program, apprentices learn the skills they need to be a successful tradesman in this field. How to handle tools, basic math and construction procedures as well as the principles of safety and first aid are just some of the things you'll learn as an apprentice. Once the program is completed, you're considered a journeyman and can go out and work as a glazier. If you live in Connecticut or Florida however, you must be licensed before starting work.
The Job Outlook
US News and World Report ranked glaziers as the ninth best construction job for 2016 while the Bureau of Labor Statistics predicts the number of jobs in this field to grow four percent by 2024. The demand for glaziers is due in part to the fact that construction is getting "greener", calling for the use of energy-efficient glass products on new and existing homes and buildings. More glaziers will also be needed when those already in the field start retiring.
If you're looking for your next day labor job, Labor Finders has you covered! Click here to find open positions near you.