What Does a Finish Carpenter Do?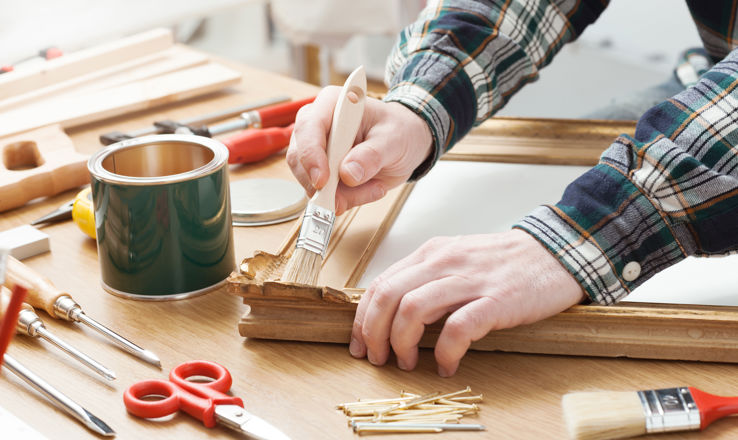 With new construction projects continuing to rise, the demand for carpenters isn't going away any time soon. That includes finish carpenters. But what do they do? And how can you become one?
What Does a Finish Carpenter Do?
When we think of carpenters, we think of those construction workers who build the wooden frame of what will be a house or a building. Finish carpenters on the other hand, start work when the project is almost complete. They handle the decorative and finishing aspects of a construction project like:
Trim
Finish carpenters work on those beautiful molding you find around windows, doors, baseboards, mantels, and along walls. They cut, fit, and then install the wooden material according to specific measurements. Finish carpenters make sure corners are crisp, joints are tight, and moldings are level.
Cabinets
Whether they're custom or pre-fabricated, finish carpenters are called on to install cabinets in designated spaces. That includes measuring and cutting wood for bases, pedestals, shelves, tops, and drawers. Once assembled, they make sure these cabinets are put in and finished to perfection.
Wood Flooring
Another way finish carpenters bring the final decorative touches to a construction project is through creating and installing custom flooring. Just like molding, they use their skills to measure, fit, and lay them down. They may even stain and varnish the flooring once it's in.
How to Become a Finish Carpenter
Now that we know what a finish carpenter does, how can you break into this career? Here's what you need to know.
Education and Training
Your finish carpentry career starts with an apprenticeship program that can last 3 to 4 years. As an apprentice you'll complete 144 hours of technical where you learn the basics of carpentry, math, blueprint reading, safety, and building codes. You may also get training in specialized work like rigging, setting concrete forms, and welding. The program requires 2,000 hours of paid on-the-job training as well. Once that's complete, you have to pass OSHAs 10-and-30 hour safety courses and meet any other requirements your home state may have.
Skills Needed
One big skill you need as a finish carpenter is a keen attention to detail. A lot of the work requires accurate measurements, precise cuts, and flawless installation. A basic understanding of math is also essential for measuring their project materials. Being a good problem-solver comes in handy when a project doesn't go according to plan. Using common finish carpentry tools like hammers, electric drill circular saws, and screw guns require good hand-eye coordination. To handle all the lifting, standing, climbing, and bending that come with the job, you should be in great physical health.
Are There Finish Carpentry Jobs Out There?
The short answer is yes! The number of open opportunities in this line of work is expected to grow by 6% by 2024 according to the Bureau of Labor Statistics. That's due to the continuing rise of construction projects. As for what to expect in the salary department, the average yearly pay is approximately $48,432 according to Payscale.
Ready to get started in a career in finish carpentry? Connect with one of our personal job agents today.